Recipes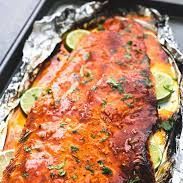 Sriracha Salmon
Preheat the oven to 450 degrees.
1 lb. Wild Caught Salmon
2 Tbsp. Honey
1 Tbsp. Rice Vinegar
2 Tbsp. Sriracha
1 Tbsp. Minced Garlic
1 Tbsp. Mustard (I prefer stone ground)
Pinch of Salt and Pepper
Salt/Pepper your Salmon and let rest for 5 minutes.
Mix Honey, Rice Vinegar, Sriracha, Minced Garlic and Mustard in a bowl.
Apply a generous amount of glaze with a brush to the salmon and bake in the oven on an aluminum lined baking sheet  for 12-15 minutes. 
Serve additional sauce on the side or drizzle over veggies and/or steamed white rice.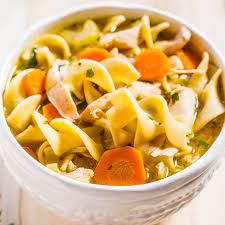 Rotisserie Chicken Noodle Soup
1 Rotisserie Chicken (remove meat from bone and skin)
4 Celery Stalks (cleaned and sliced)
1 Sweet Onion (cleaned and diced)
1 Packaged of Carrot Chips (rinsed)
2 - 32 oz. of low-sodium Chicken Stock or Bone Broth
1 Tbsp. EVOO (extra virgin olive oil)
2 Tbsp. of Minced Garlic
2 Bay Leaves
2 Tbsp. dried or fresh Parsley
2 Tbsp. dried or fresh Thyme
3 Cups Wide Egg Noodles or Spiralized Zucchini 
Salt/Pepper to taste.
In a large pot heat EVOO, Minced Garlic and Diced Onion for 3-4 minutes. 
Add Chopped Celery and Carrot Chips and continue heating for another 2-3 minutes. 
Add Chicken Stock, Bay Leaves, Parsley, Thyme and Rotisserie Chicken. Cover and simmer on low for 20 minutes. 
Add Wide Egg Noodles and simmer until tender, about 6-7 minutes. If using Spiralized Zucchini, simmer for 2-3 minutes.  
Remove from heat, remove Bay Leaves and serve immediately. Salt/Pepper to taste.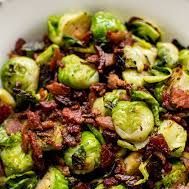 Brussels Sprouts with Bacon (serves 4)
4 Strips of Bacon (diced)
4 Cups of halved Brussels Sprouts
1 Cup of Water
½  Cup of White Onion (diced)
2 Tbsp. White Wine Vinegar
1 tsp Salt
Saute Bacon in a large skillet until crisp, 4-5 minutes. Transfer bacon to a paper-towel-lined plate.
Combine Brussels Sprouts, Water, Onion and Salt in the skillet used to cook the bacon. Bring mixture to a boil. Cover and cook until sprouts are tender, 5-7 minutes. Drain sprouts. 
Stir Vinegar and Bacon into the Brussels Sprouts and serve immediately.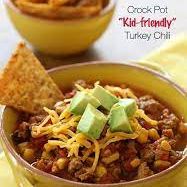 Crock Pot Kid-Friendly Turkey Chili
1.5 lbs. 99% lean ground turkey
1 teaspoon oil
1 medium onion, minced
1 red bell pepper, diced fine
1 garlic clove, minced
1 1/2 cups frozen corn kernels
10 oz. can Rotel Mild Tomatoes
8 oz. small can plain tomato sauce
1/4 cup low sodium chicken broth
1 teaspoon cumin
1/2 teaspoon chili powder
1/2 teaspoon paprika
1/2 teaspoon kosher salt
1 bay leaf
Optional Toppings:
Diced avocado
Reduced fat sour cream
Reduced fat shredded cheese
Baked tortilla chips
Heat a large skillet over medium-high heat, add the turkey, season with salt and cook, breaking up with a spoon until turkey browns and is no longer pink; place into the slow cooker.
Add the oil to the skillet and sauté the onion, garlic and bell pepper over medium heat for about 4 to 5 minutes. Spoon over turkey into the slow cooker and stir in corn and tomatoes, tomato sauce, cumin, chili powder, paprika and salt, mix until well blended. Pour chicken broth into the crock pot and add the bay leaf.
Cover and cook on HIGH 4 hours or LOW 6 hours. 
Serve with desired toppings.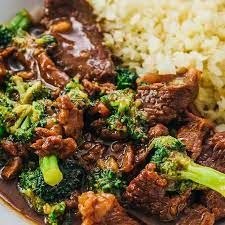 Instant Pot Beef and Broccoli
1.5 pounds boneless beef chuck, trimmed and sliced into thin strips
7 cups broccoli florets 
4 cloves garlic, minced
1 tablespoon cooking oil
Sauce
 1/2 cup beef broth
1/2 cup low-sodium soy sauce 
1/4 cup brown sugar or erythritol 
1 tablespoon cornstarch 
Brown Beef: Select sauté mode on pressure cooker for medium heat and add oil. Once heated, add garlic and sliced beef. Cook for a few minutes until browned, stirring frequently. Keeping beef in pot, add beef broth, soy sauce, and sweetener. Stir until sweetener is dissolved. Turn off sauté mode.
Pressure Cook: Secure and seal lid. Cook at high pressure for 15 minutes. Meanwhile, cook broccoli by microwaving for 3 to 4 minutes until tender. When pressure cooker is done, turn release knob to venting position for quick pressure release.
Thicken Sauce: Uncover pressure cooker and remove 1/4 cup of liquid. Mix with cornstarch in small bowl until completely dissolved and smooth, then add back to pot. Turn on sauté mode for medium heat. Simmer sauce for about 5 minutes to thicken a bit, stirring frequently. Turn off sauté mode.
Serve: Add cooked broccoli back to pot and briefly stir to coat with sauce.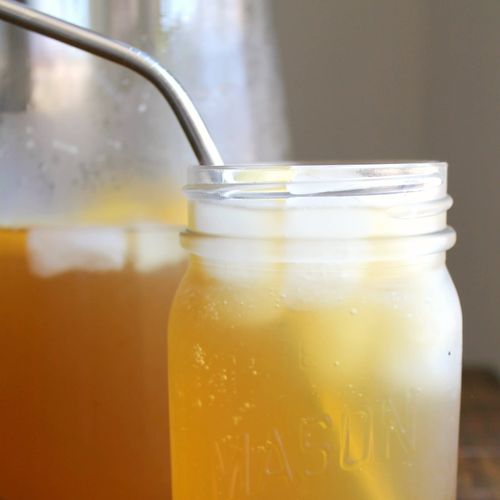 Metabolism revving and immune boosting tea
2 Oolong tea bags
2 Lemon green tea bags
4 Cups boiling water
1/2 tsp liquid stevia extract
4 Tbsp. apple cider vinegar
2-3 Tbsp. lemon juice
2 Cups of cold water
DIRECTIONS
Brew the tea, I like to brew the green and oolong tea together in a large mason jar. I brew it overnight, but you don't have to let it go that long. Then, mix all the ingredients together and drink chilled. This tea curbs cravings and helps build the immune system with the apple cider vinegar, lemon and antioxidants from the tea. Not to mention a nice caffeine boost in the middle of your day!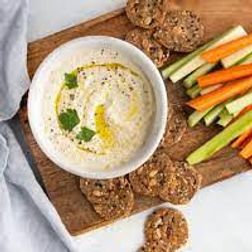 Raw zucchini hummus
1 1/2 lbs. zucchini
2–3 Cloves garlic
1/8 Cup lemon juice- plus more to taste
1/4 Cup tahini paste (or sub ½ an avocado)
1/2 tsp kosher salt, more to taste
1/2 tsp cracked pepper
1/4 Cup or more fresh herbs (optional) flat-leaf parsley, mint, basil, or a combo
Directions:
Peel the zucchini and cube into chunks
Add all ingredients into a Cuisinart or blender
Blend until creamy and smooth
Dip veggies/crackers or pita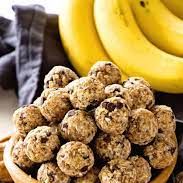 No bake Chocolate chip Banana Energy Balls (makes about 25-30)
2 Cups quick oats
2 Ripe bananas
2/3 Cup unsweetened coconut flakes
1/2 Cup peanut butter
2 Tbsp. flaxseed
1 Tbsp. chia seed
1 tsp cinnamon
1 tsp vanilla
1 Tbsp. Honey
1/2 Cup mini chocolate chips
Mix all ingredients in a large bowl. Roll into palm size balls and chill in refrigerator or enjoy immediately.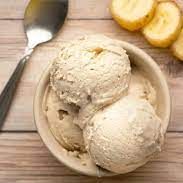 Banana Ice Cream
1-2 peeled and frozen ripe bananas 
A small rounded spoonful of nut butter
Dash of cinnamon
Directions:
Chop bananas into small pieces. Place banana, nut butter and cinnamon into a food processor or high- speed blender and pulse or mix until smooth (you may have to use a spatula and scrape sides periodically). You can eat the ice cream right away or transfer to an airtight container and freeze until solid like traditional ice cream. Enjoy.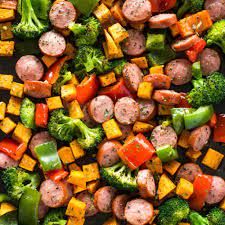 20 Minute Sheet Pan Sausage and Veggies
1 Package Chicken Sausage about 3 cups
2 Cups sweet potato diced into 1/2'' cubes
2 Cups broccoli florets
1 Cup bell pepper chopped (any colors you like)
2 Cloves garlic minced
2 Tbs. Olive oil
1 Tbs. Italian seasoning or your favorite low-sodium spice blend.
Pinch of Salt/Pepper
Directions:
Pre-heat oven to 400F.
Slice the sausage into 1'' rounds. Dice the sweet potatoes into small 1/2'' cubes.
Add the sausage, veggies and minced garlic to a large baking sheet. Drizzle with olive oil and sprinkle with the Italian spices or your favorite spice blend. Seasoning with salt and pepper. Toss veggies with your hands until they are fully combined and coated with olive oil and spices.
Bake for 20 minutes, flipping halfway. Enjoy alone or on top of rice or quinoa.
Notes:
Other veggies that are also great in this dish include zucchini, asparagus, green beans, Brussels sprouts, grape tomatoes, onion, and carrots.